Carrera Vengeance Review 2019
In the bike manufacturing industry, the specs and competition are always so high that many manufacturers only manage to launch one bike, before being long forgotten. However, this is not the case for Carerra. Having been around for over 25 years now, the company has perfected the art of creating affordable mountain bikes without compromising on quality.
Contributing to their success is their best seller, Carrera vengeance. Just picture the Carrera Vulcan but with better features. With many people still being a little skeptical of the product and doubtful that the hype surrounding it is well deserved, I have taken the liberty to draft an extensive review of the Carrera vengeance in this article.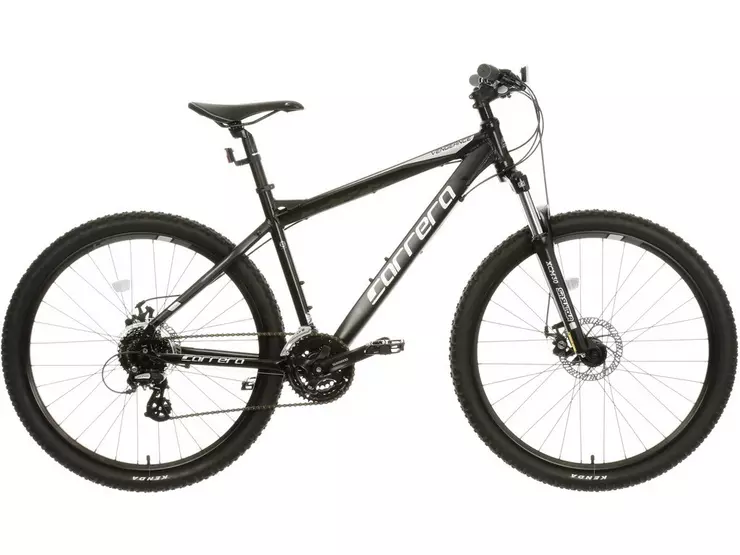 Summary of the specs
Frame material – Alloy (lightweight and strong)
Brake set- Tektro disc brakes( mechanical)
chain set-Sram S200 3.0
Available colors- Orange, Black
wheel size-27'5 x 2.10″
wheel type-Kenda tires
gears-16 speed Shimano Altus gear set
Front forks- Suntour XCM adjustable forks
Fork travel- 100mm
Front derailleur-Shimano M190
Rear derailleur shifters- SRAM x4
Is Carrera a good make of a bike
As is the normal Carrera trend, this bike is very affordable and offers you great value for money. However, if you are looking for a high-performance bike to take you through rocky and hilly terrains, it is not the best option in the market. Only go for it if your budget is stretched and you don't regularly visit the mountains. To answer the question, Carrera vengeance is a good bike, just not the best.
Here are the outstanding features of the Carrera mountain bike>
Carrera vengeance features and design
Its features are on par with what you would expect on a bike of fewer than 500 dollars. In the spirit of making the bike more comfortable to use, they have removed one cog on the chain; it now comes with a 2x( 2 by). Its freewheel is the remarkable Shimano CS-HG200 8 speed, 12-32T. This means less maintenance and easier changing of gears.
Speaking of gears, you need not worry about options as the Carrera vengeance is designed with 24, 16-speed Shimano Altus modern and efficient gears. Its tekro mechanical disc brakes are very responsive for absolute control on those hill rides.
Also, the mechanical disc shifters are great for quick and effective gear change when you are riding uphill or on a rocky/mountain terrain.
I do not forget its fairly decent 27. 5″ Kenda tires that are double rimmed with alloy. To make the tires worth the brand's reputation, they are puncture-protected. This is thanks to the great quality and a band of kevlar surrounding the rim. The tires also posses treads ideal for mud, rocks, or roads for utmost convenience.
Carrera vengeance performance and functionality
Weighing only 14 kgs, this mountain bike is very light and peddling; it will be a breeze. However, when riding on a mountain trail, you will notice that you will need a lot more effort on the peddles.
Harlods recently updated its geometry to match the legendary Carrera Vulcan. It now comes with a longer wheelbase, wider well-positioned handlebars, and shorter stems. Thanks to the upgrade, this bike is even better equipped for sharp corners. You will not even realize you took a turn as the control and stability are excellent.
Coupled with a great pair of manual mechanical disc brakes and Kenda tires, the performance of this bike will ensure you ride to wherever mountain and mud-filled adventures you can dream of reasonably easy.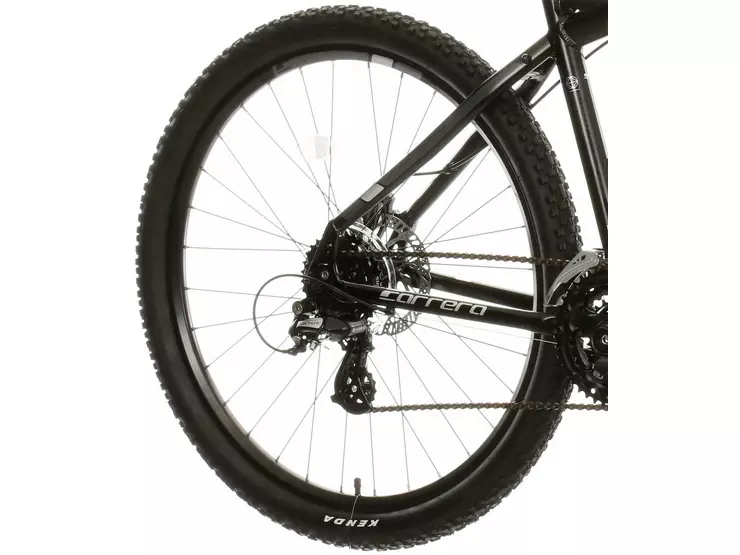 Carrera vengeance price and availability
As per the time, the review was written, this mountain bike was going for a paltry 350 dollars. Not only is it of good value, but it also comes with free unlimited safety checks plus a discount for all the spare parts you might need. To sweeten the deal, the bike comes with a lifetime frame guarantee. Bike enthusiasts are always complaining of the high costs of maintenance, so this is a worthy addition.
There is a considerable number of duplicate bikes of the same design in the market with fraudsters looking to rip you off. So try and purchase your bike from the official Harold store. You can choose between 16″small, 18″medium, 20″large, and 22″extra-large depending on your body size. Harold manufacturers are kind enough to offer free bike building.
The bike will get to you when it is ready for the road if only you can wait for a few extra days from the delivery written at checkout.
Carrera vengeance outlook
This mountain bike is an undeniable beauty. It has a nice contrast between the alloy frame and the silver supporting parts. Complete with high tensile forks, you can forget about falling off your bike due to poor balance or tiring yourself after with hard pedals.
The best part about Careera vengeance is, it is also as comfortable as it looks. Comes equipped with a memory form saddle and knurled soft rubber handlebars. This will ensure you don't get blisters after those long biking trails.
They were not compromising on comfort as the mountain bike also comes with carbon bladed forks that come supported with aluminum steerer. The point of this is to help reduce vibration and shaking when you are on rocky or hilly terrain.
Pros of the Carrera vengeance
Well built with a lightweight alloy frame that can withstand any terrain
Has a great front suspension system to help keep you stable during jumps or bumps
This mountain bike comes with a state of the art design, and it comes with two colors to choose from
It has a smooth transition Shimano gearing system as it has a wide-spaced Shimano cassette and chainset.
As with all Halfords bikes, the bike comes with a guaranteed reputable and convenient repair and maintenance service.
Cons of the Carrera vengeance
The gears are very hard to shift if you are on high speed or going uphill
The tires wear out quickly and replacing them is very expensive
Conclusion
The Carrera vengeance is definitely worth the hype. If compared to other bikes of the same price, it has a high performance, made to the quality, and very good discount deals if bought from the official store dealers. However, it ill only serve you well if you intend to use it for smoother terrains most of the time. Otherwise, you will be disappointed with the shelf life of some of its parts.